Featured Recipe
HELPFUL GUIDES
New USDA Guidelines Lower Pork Cooking Temperature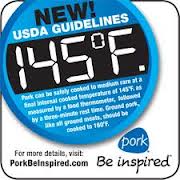 New cooking guidelines from the nation's food-safety agency confirm Pork Checkoff research that shows pork can be consumed safely when cooked to an internal temperature of 145 degrees Fahrenheit, followed by a three-minute rest time. The guidelines were announced today by the U.S. Department of Agriculture's Food Safety Inspection Service (FSIS).

The new recommended temperature is a significant 15 degrees less than what was previously recommended and typically will yield a finished product that is pinker in color than most home cooks are accustomed to.
RECIPE ARCHIVES

COOKBOOKS
Cooking for Comfort
Discover new ways to take comfort in juicy, tender pork with the
National Pork Board's
FREE "Cooking For Comfort"
e-cookbook.
Kids' Cookbook